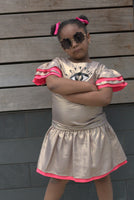 Get to Know Saia
Saia is a sassy, ambitious, intelligent and admirable five-year-old that is zealous about fashion! She loves to express herself through her clothing and stylish accessories. She believes accessories are what makes an outfit stand out!  
Spice up your style with Saia & Co.
Saia & Co. is a collection of exclusive children's accessories that will add a unique touch to your child's fashion apparel. Not only do we strive to enhance your child's style but their confidence as well!